The Eaton Rapids Medical Center Auxiliary provides volunteers and financial support to the hospital. Together, Eaton Rapids Medical Center and the Auxiliary work hand-in-hand to improve healthcare for residents in the Eaton Rapids area. 
The men and women of the Auxiliary work on various fundraising events such as the annual Fall Gala Dinner & Silent Auction as well as Purse Bingo. The Auxiliary also operates the Owl's Perch Gift Shop, located in the main lobby of the Medical Center. Funds raised are used for facility improvements and equipment purchases exclusively at Eaton Rapids Medical Center.
The Auxiliary holds two general membership meetings each year featuring informative speakers covering a variety of topics. Our members have diverse backgrounds, ranging from working professionals to retirees. Membership dues are $10.00 per year for those that donate 30 or more service hours annually.
Applications for membership are available in the hospital lobby, the Owl's Perch Gift Shop or you may call (517) 663-9510.
Gift Shop Hours
Monday, Wednesday, and Thursday
9 a.m. – 5 p.m.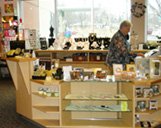 Visit the Owl's Perch Gift Shop for all your gift-giving needs, including collections of jewelry, décor, toys, personal care items, glassware, and much more!
Purse Bingo
The seventh annual ERMC Auxiliary Purse Bingo fundraiser was held at the First United Methodist Church in May 2019. Participants had the chance to win 20 different purses, each with a minimum value of $40. This event raised $7,686.32. Proceeds helped fund the implementation of 3D Mammography at ERMC.
Fall Gala Dinner & Silent Auction

The Auxiliary held the twelfth annual Fall Gala Dinner & Silent auction at The English Inn's Medovue Hall on Friday, November 22, 2019. Entertainment was provided by The Great Kaplan. The Gala Committee wishes to thank The English Inn, attendees, auction item donors and our many generous sponsors. Proceeds of nearly $11,000 will go toward paying off the Auxiliary's pledge to 3D Mammography.