Thank you for choosing Eaton Rapids Medical Center (ERMC). We appreciate the opportunity to care for you and your family. Eaton Rapids Medical Center is an independent, top-ranking critical access hospital providing Mid-Michigan residents of all ages with exceptional care from diagnosis to treatment and rehabilitation. In 2018 and 2019, ERMC was the first hospital in the Greater Lansing region to receive a five-star rating from the Centers for Medicare & Medicaid Services (CMS) and to be ISO 9001 certified. Twenty licensed beds provide inpatient and surgical patients the privacy needed to recover while allowing our highly-trained and experienced staff the privilege of delivering compassionate care. Our Medical/Surgical Unit is also home to our Swing Bed Program, which provides comprehensive, hospital-based skilled care and rehabilitation.
The Emergency Department at ERMC has earned a Level IV Trauma Designation from the Michigan Department of Health and Human Services. It is staffed by board-certified emergency medicine physicians 24/7/365 and features ten private rooms, including trauma, decontamination, and isolation rooms that are designed for privacy, comfort, and personal attention. Our family care providers at the ERMC Family Practice and Springport Medical Clinic specialize in care for the entire family. The Family Practice has earned a Patient-Centered Medical Home (PCMH) Physician Practice designation from Blue Cross Blue Shield of Michigan. Our Redicare welcomes walk-ins for when unexpected health concerns arise. ERMC Mental and Behavioral Health professionals provide support when conditions, habits, behaviors, stress, or emotional concerns are interfering with daily life and/or overall health.
As an added convenience, physicians come from the Lansing and Jackson areas to see patients in the Specialty Clinics at ERMC. Cardiology, gastroenterology, orthopedics, gynecology, and ophthalmology are just a few of the specialties offered. A sleep center, 3D mammography, wide-bore MRI, and CT are among the many diagnostic tools available. We have an exceptional team of surgeons, nurses, and technologists who are devoted to your successful outcome. Our experienced physical and occupational therapists in our Rehabilitation Department will guide you to recovery.
At ERMC, we believe that prevention is an essential component of healthcare. HealthWorks Fitness Center is open to the public and offers a whole-body approach to wellness. Personal training is offered at no additional charge.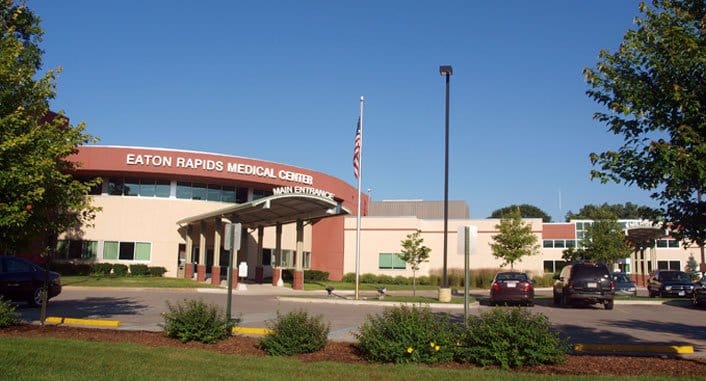 Awards and Accreditations
CMS Hospital Compare Five-Star Rating 2018 & 2019
Governor's Award of Excellence for Effective Reporting and Measurement 2019
DNV Accredited for Quality & Patient Safety
ISO 9001:2015 Certified
Laboratory College of American Pathologists Accreditation
American College of Radiology Gold Seal of Accreditation
Critical Access Top 100 Hospital 2016
NOSORH Performance Leader in Patient Satisfaction and Quality 2016
Pharmacy Compounding Accreditation Board Accreditation
Emergency Department Level IV Trauma Designation
Family Practice Patient-Centered Medical Home Designation
American Academy of Sleep Medicine Accreditation