We've launched telehealth visits!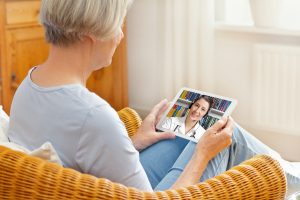 Telehealth consultations are virtual appointments conducted over video conferencing services.
Steps:
Call 517.999.4500 to schedule an appointment. Your provider will decide if you need to present to the clinic or if Telehealth is best for you.
You will receive an email or a text from your provider with the link to take you directly to the visit. Click on the link.
Make sure your audio is turned on.
Your provider will open the visit when they are ready. Please wait for them to connect.
Preparing for your video visit:
To participate you will need a smartphone, tablet, or a laptop with a camera. Make sure it is charged and has a strong wireless internet or cellular data connection.
Choose a location that is safe, comfortable, private, and well-lit.
Turn the audio on and volume up and make sure the camera, microphone, and speakers are not blocked by your hand or phone case.
If you have questions, please contact our office at 517.999.4500.