Comprehensive, hospital-based skilled care, close to home.
The Swing Bed Program is designed to help if you are no longer in need of acute care in a hospital, but still need skilled care before returning home. Even if you have received inpatient care or surgery at another hospital, you can choose Eaton Rapids Medical Center for Swing Bed care. Stays are anticipated to be short-term and can be utilized for a variety of conditions including, but not limited to:
Stroke
Heart Disease
Joint Replacement & Other Surgeries
Respiratory Disease
Newly Diagnosed Diabetes
Traumatic Injuries
Fall Injuries
Benefits of our Swing Bed Program:
Recovery in a safe and secure environment
Skilled nurses and physicians available 24/7
Access to health care professionals including physical therapists, occupational therapists, speech therapists, respiratory therapists and dietitians
Discharge planning services to arrange for home health therapies, nursing, supportive care and other services you may need when you return home
Coordinated team services to address nutrition, pain and medical management while your strength and function improves enough to return home
On-site specialty clinics including cardiology, gastroenterology, ophthalmology, orthopedics and urology
ERMC provides the following on-site services during your stay:
Complex Medical Services
Short-Term Rehabilitation
Physical Therapy
Occupational Therapy
Speech Therapy
Radiology and Laboratory Services
Individualized Care Plans
I.V. Antibiotic Therapy
Respiratory Therapy
Medication Management
Wounds Care Management
Nutrition Evaluations & Management
Patient and Family Education
Discharge Planning
We recommend patients bring 5-6 changes of clothes, sensible walking shoes, night clothes and undergarments. We will supply bedding and linens. A variety of insurances are accepted, including Medicare, Medicare Plus Blue, Humana and many commercial products.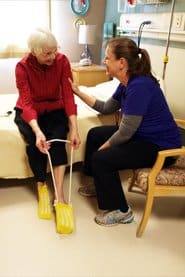 Contact our clinical integration team to arrange a tour, answer any questions or initiate a referral.

Phone: (517) 663.9492 
Fax: (517) 663.2472