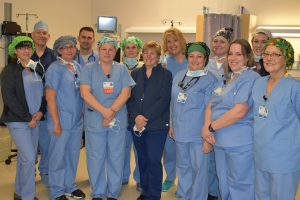 Helping each patient and their family feel as relaxed and comfortable as possible is the goal of each of our Surgical Team members. We pride ourselves on making your experience positive. We have an exceptional team of surgeons, nurses and technologists who are experienced, highly-educated and devoted to your successful outcome. Our surgery suites feature high-tech equipment to perform a large variety of procedures in a pleasant setting specifically designed for your comfort and recovery.
For additional information on any of our Surgical Services, please call 517.663.9403.
Some common procedures performed include:
Orthopedic Surgery – Total joint replacement, knee and shoulder arthroscopy, hand procedures including carpal tunnel release, arthroplasty, trigger finger release, fracture repair
General Surgery – Cholecystectomy (gallbladder removal), appendectomy (appendix removal), hernia repair, breast biopsy and breast cancer surgery, bowel resections, removal of masses, infusaport insertion
Pain Management Surgery – Injections, epidurals, rhizotomy, spinal cord stimulator trials and implants, spinal opiate catheter trials and implants, and interspinous process decompression
Urology Surgery – Prostate and bladder tumor surgery, bladder suspension, hydrocelectomy, varicocelectomy, incontinence surgery
Eye Surgery – Cataract removal
Ear Surgery – Myringotomy with tube insertion
Podiatry Surgery – Variety of foot and ankle procedures
OB/GYN Surgery – Hysterectomy, uterine ablation, laparoscopic & hysteroscopic surgery
General Surgery
Lansing Surgical Associates, P.L.L.C.
Jeffrey Deppen, DO
Troy Ferguson, DO
Werner Henning, DO
The surgery suites at Eaton Rapids Medical Center feature high-tech cameras and instruments to perform a variety of procedures in a pleasant setting specifically designed for patient comfort and recovery. Procedures performed include but are not limited to:
Laparoscopic appendectomy
Laparoscopic hernia repair
Laparoscopic gallbladder removal
Bowel resection
Breast biopsy
Hemorrhoidectomy
Mass removal
Hernia repair
Endoscopy/colonoscopy
Infusaport
Skin cancer surgery
Feeding tubes
Thyroid surgery
Vasectomy
Referral Instructions
Call 517.663.9403 to schedule an appointment
Anesthesia
Lutz Enterprises
Larry Lutz, CRNA Manager
Melissa Aste, CRNA
Brian Estevez, CRNA
CJ Gardner, CRNA
Kevin McClelan, CRNA
Mike McRorie, CRNA
Tammy Stewart, CRNA
Ashley Terranova, CRNA