The experienced family care professionals and internists at the ERMC Family Practice & Redicare specialize in care for your entire family. Our practice is also here for you when unexpected health concerns arise. The Redicare accepts walk-ins and features a separate waiting room. We are welcoming new patients regardless of insurance coverage. 
Phone: 517-999-4500
Location: Entrance C
1500 South Main
Eaton Rapids, Michigan 48827
Redicare Hours:
Monday – Friday: 10 a.m. – 6:30 p.m. (last patient 6 p.m.)
Family Practice Hours:
Monday-Thursday: 7 a.m. – 6 p.m.
Friday: 7 a.m. – 4:30 p.m
Redicare Telehealth
Click the button below to be taken straight to the online Redicare waiting room.
Please have your photo ID and insurance card ready.
Examples of Conditions We Treat Online:
Cough
Fever
Congestion
Sore Throat
Flu-Like Symptoms
Concerns for COVID-19 Symptoms
Family Practice Telehealth
You can now connect with your ERMC Family Practice and Mental & Behavioral Health provider using your smartphone, tablet, or laptop! Telehealth consultations are virtual appointments conducted over video conferencing services. Call 517.999.4500 to schedule an appointment. Your provider will decide if you need to present to the clinic or if Telehealth is best for you. Click the button below to learn more. 
Telehealth should NOT be used for emergencies. In the event of an emergency, call 911 or visit your nearest emergency department. 
Our Services
Comprehensive Programs for  Diabetes, COPD and CHF
Mental and Behavioral Health
Pediatric Well Exams
Sports Physicals
Immunizations & More
Note: If a Redicare patient is evaluated and their condition is determined to be beyond the capabilities of this department, they will be referred to an Emergency Department.
Examples of Redicare vs Emergency Care Conditions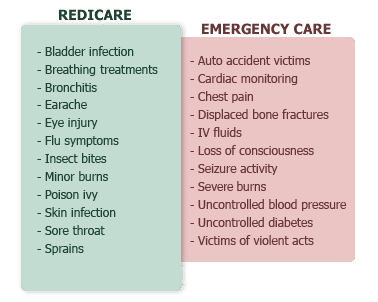 PLEASE NOTE: Services rendered at ERMC Family Practice & Redicare are billed as an office visit, regardless of whether you have a scheduled appointment time or you are seen as a walk-in patient. Services rendered are NOT billed as an Urgent Care visit. If we are not your assigned primary care physician (PCP), your visit today may require authorization from your PCP to be seen here and/or you may have a higher copay/deductible applied by your insurance, depending on your benefits. Please check with your insurance company prior to being seen to verify your current coverage for services rendered in the physician's office setting (Rural Health Clinic).
Patient-Centered Medical Home
The ERMC Family Practice has been designated as a Patient-Centered Medical Home (PCMH) by Blue Cross Blue Shield of Michigan. This means we have created a wide range of services and resources designed to:
Offer you extended access to your healthcare team
Help you meet your healthcare goals and manage chronic conditions
Track and monitor the care you receive from all of your healthcare providers
Frequently Asked Questions
What's the difference between Emergency Care and Redicare?
Redicare can offer minor treatment when your family physician is not available. Emergency Department visits are classified as potential serious illnesses or injuries such as chest pain, displaced bone fractures, seizure activity, loss of consciousness and uncontrollable bleeding.
How much is a Redicare visit?
Family Practice & Redicare co-pays are equivalent to a doctor's office visit, which is generally less expensive than urgent care and emergency care co-pays. Any additional charges resulting from tests and procedures will be billed to your insurance company first.
Please Note: Every patient that visits our Emergency Department, regardless of diagnosis, will be charged Emergency Department fees.