Coronavirus Disease 2019 (COVID-19)
If you suspect you have been exposed to COVID-19, or have a fever, cough, and other respiratory symptoms—please call 517.663.2671 for instructions before you come to Eaton Rapids Medical Center. We are not currently testing for Coronavirus on a drive-up or walk-in basis. We are only testing patients who meet certain criteria in our Emergency Department or Redicare. For information on testing locations, please call Michigan Department of Health and Human Services hotline at 1-888-535-6136. 
At this time, visitors are restricted to one per patient (except for special circumstances).
With the exception of emergencies and Family Practice and Redicare visits, all who enter must visit the mandatory check-in tent to be screened first. After hours, please proceed to the Emergency Entrance.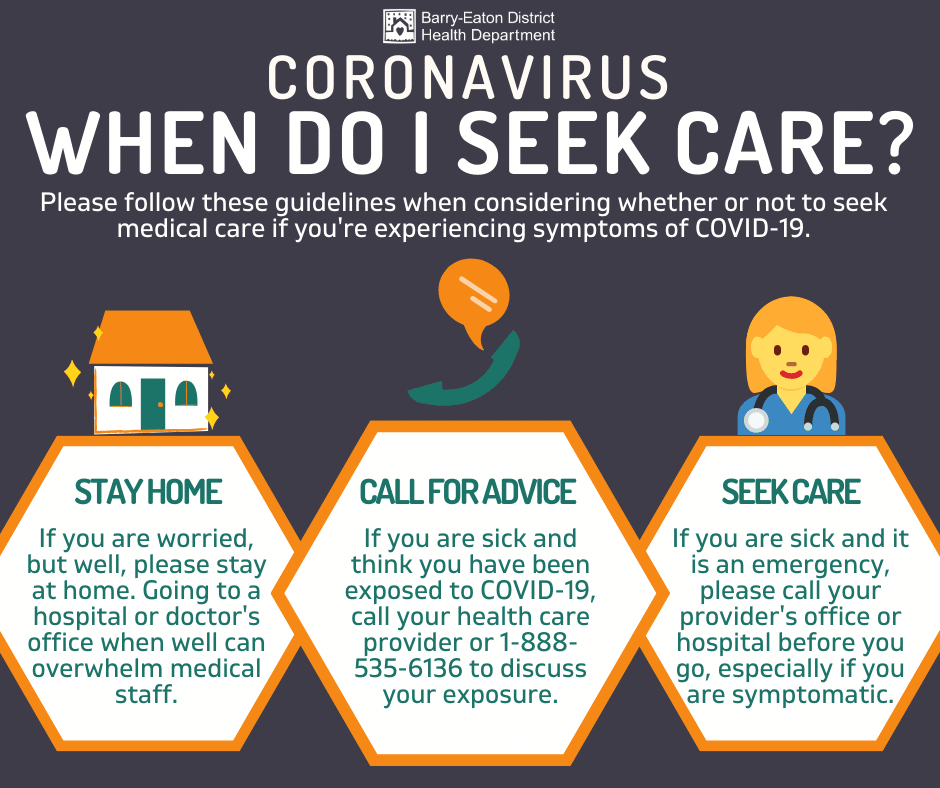 We've launched telehealth visits! 
See a Redicare or Family Practice provider online using your smartphone, tablet, or laptop. Learn more at https://www.eatonrapidsmedicalcenter.org/services/family-practice-redicare/.
What are the symptoms of COVID-19?
Symptoms may appear 2-14 days after exposure to the virus. People with these symptoms may have COVID-19:
Fever or chills
Cough
Shortness of breath or difficulty breathing
Fatigue
Muscle or body aches
Headache
New loss of taste or smell
Sore throat
Congestion or runny nose
Nausea or vomiting
Diarrhea
Reported illnesses have ranged from mild symptoms to severe illness and death.
When to Seek Medical Attention
If you have any of these emergency warning signs* for COVID-19 get medical attention immediately:
Trouble breathing
Persistent pain or pressure in the chest
New confusion
Inability to wake or stay awake
Bluish lips or face
*This list is not all inclusive. Please consult your medical provider for any other symptoms that are severe or concerning to you.
Call 911 if you have a medical emergency: Notify the operator that you have, or think you might have, COVID-19. If possible, put on a cloth face covering before medical help arrives.
For additional information, please visit https://www.michigan.gov/Coronavirus and https://www.cdc.gov/coronavirus/.
Do not delay care out of fear of contracting COVID-19. We have implemented infection prevention measures to safely care for you during this time.
Resources
The Capital Area United Way (CAUW) has reactivated its Emergency Relief Fund (ERF) in response to COVID-19. Since launching on March 16, the fund has raised $476,719. The Emergency Relief Fund is intended to help community members in Clinton, Eaton, and Ingham County meet basic household needs, such as rent, mortgage, and utility assistance. To learn more about the ERF and how to apply for funding, contact Central Michigan 2-1-1 by dialing 211 on your phone.
The Eaton RESA put together a COVID-19 Tri-County Resource Guide. This document provides resources for many of the concerns families may be facing during this COVID-19 crisis. Access it here: COVID19 Tri-County Resource Guide.
For media inquiries, please contact Lindsay Peters at 517.663.9524.