Coronavirus Disease 2019 (COVID-19)
If you suspect you have been exposed to COVID-19, or have a fever, cough, and other respiratory symptoms—please call 517.663.2671 for instructions before you come to Eaton Rapids Medical Center. We are not currently testing for Coronavirus on a drive-up or walk-in basis due to a national shortage of supplies and testing capacity. We are only testing patients who meet certain criteria in our Emergency Department or Redicare, and it is taking 7 to 12 days for us to get the results. For information on testing locations, please call Michigan Department of Health and Human Services hotline at 1-888-535-6136. The hotline will be open seven days a week from 8 a.m. to 5 p.m.   
At this time, visitors are restricted to those who are necessary for the support of medical care or the support of activities of daily living, or those under exigent circumstances.
With the exception of emergencies, all who enter must visit a mandatory check-in tent to be screened first. There is one by the Main Entrance and one by the Family Practice & Redicare Entrance. After hours, please proceed to the Emergency Entrance.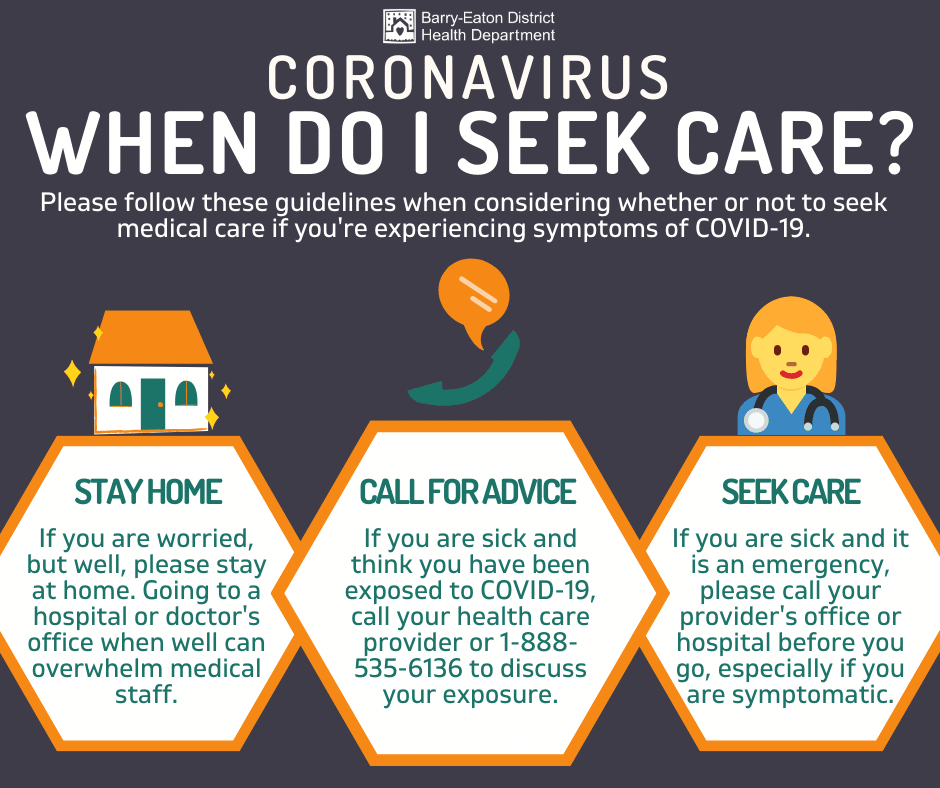 What is COVID-19?
COVID-19 is caused by a new respiratory virus. In December 2019, the virus began circulating in humans. Health experts are concerned because little is known about this new virus and it has the potential to cause severe illness and pneumonia.
What are the symptoms of COVID-19?
Symptoms may appear in as few as two days or as long as 14 days after exposure to the virus. They include:
Fever
Cough
Shortness of breath
Headache
Muscle Pain
Tiredness
Reported illnesses have ranged from mild symptoms to severe illness and death. If you are mildly sick and suspect you might have COVID-19, it is important for you to stay home and treat your symptoms. If you are seriously ill, contact your doctor, who will determine how to best treat you and whether you need testing.
How does COVID-19 spread?
Health experts are still learning about how this new coronavirus spreads. The virus is thought to spread mainly from person-to-person:
Between people who are in close contact (within about six feet) of an ill person, and
Through respiratory droplets produced when an infected person coughs or sneezes.
It also may be possible that a person can get COVID-19 by touching a surface or object that has the virus on it, then touching their mouth, nose or eyes.
There are steps you can take to prevent spread of flu and the common cold that will also help prevent COVID-19, including:
Wash your hands with soap and water.
Avoid touching your eyes, nose or mouth with unwashed hands.
Cover your mouth and nose with a tissue or upper sleeve when coughing or sneezing.
Avoid contact with people who are sick.
Stay home if you are sick and contact your healthcare provider.
For additional information, please visit https://www.michigan.gov/Coronavirus and https://www.cdc.gov/coronavirus/2019-nCoV/index.html.
For media inquiries, please contact Lindsay Peters at 517.663.9524.