Nominate a nurse for the DAISY Award!
Want to thank your nurse for extraordinary care? Share your story!
The DAISY Award is an international program that rewards and celebrates the extraordinary clinical skill and compassionate care given by nurses every day. Eaton Rapids Medical Center is proud to be a DAISY Award Partner, recognizing one of our nurses with this special honor every year during Nurses Week. DAISY Award Honorees personify Eaton Rapids Medical Center's remarkable patient experience.
The DAISY Foundation was established in 1999 by the family of J. Patrick Barnes, who died of complications of the auto-immune disease Idiopathic Thrombocytopenia Purpura (ITP) at the age of 33. DAISY is an acronym for diseases attacking the immune system. During Pat's eight-week hospitalization, his family was awestruck by the care and compassion his nurses provided, not only to Pat but to everyone in his family. One of the goals they set in creating a Foundation in Pat's memory was to recognize extraordinary nurses everywhere who make an enormous difference in the lives of so many people through the work they do every day.
To nominate a nurse for this annual award, fill out our online form:

Nomination forms are also available in the main lobby of Eaton Rapids Medical Center.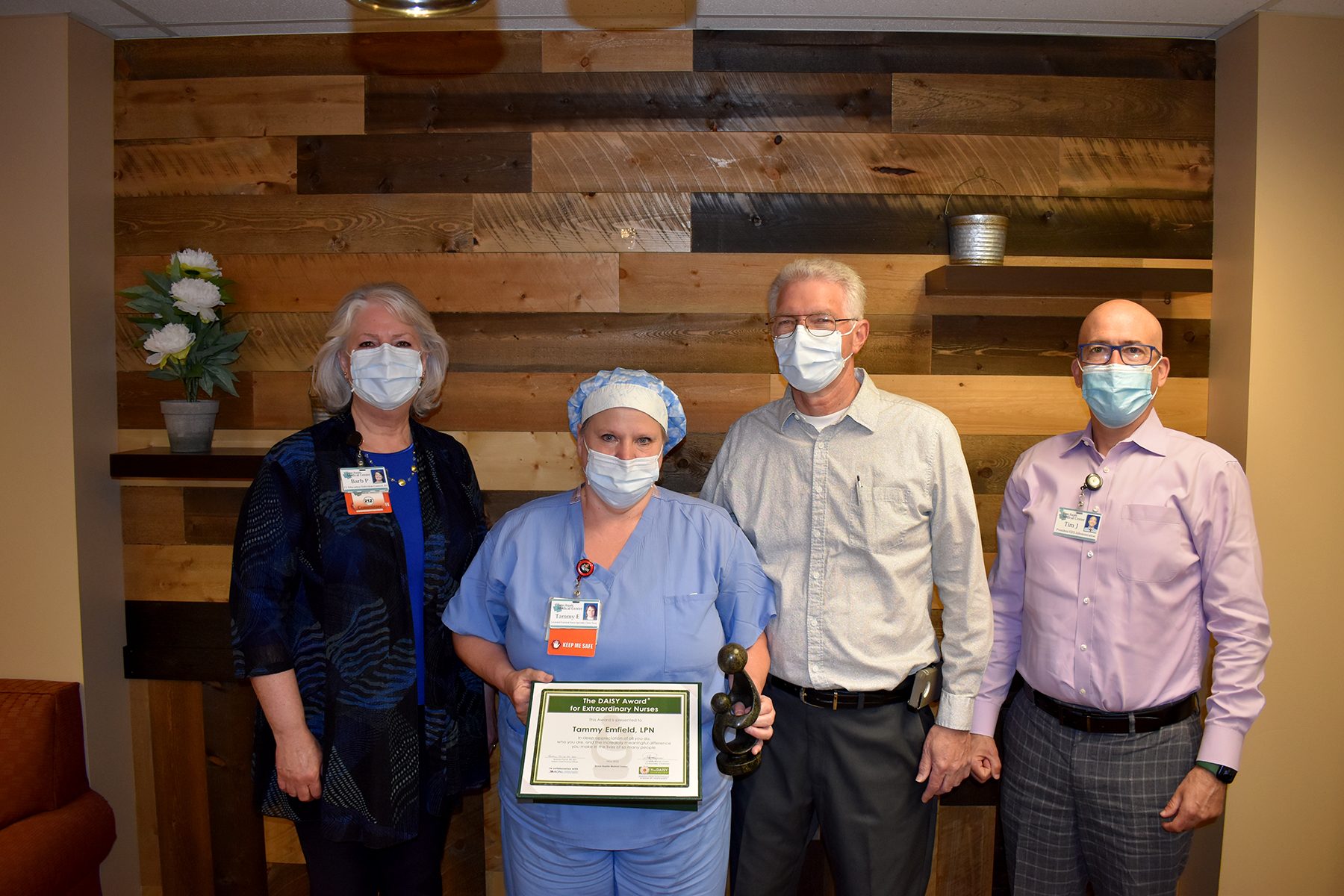 Congratulations to Tammy Emfield, LPN, Eaton Rapids Medical Center's 2022 recipient of the DAISY Award for Extraordinary Nurses!
Tammy's nomination reads "Tammy's dedication to her patients amazes me; she is a wonderful person and so dependable. She has a heart of gold and is always happy to go above and beyond!"
Thank you to Tammy and all of our extraordinary nurses for caring for our patients each and every day.
 In addition to the award, Emfield also received a bouquet of daisies, a DAISY Award pin and a handmade sculpture entitled "A Healer's Touch." This award was created by the DAISY Foundation to honor extraordinary nurses who go above and beyond to make a difference in patients' and families' experiences in healthcare. ERMC joins facilities all over the world in participating in this recognition program to celebrate nurses and the skilled, compassionate, dedicated care they deliver every day.
To learn more about the DAISY Award and the DAISY Foundation, visit daisyfoundation.org/daisy-award.